Support your practice with the help of a bolster
Photos by Craig Knox
Yoga props are meant to support your practice, whether you are looking to deepen, restore or both! As we continue with our Prop It Like It's Hot series, we're highlighting the bolster, also known as the (usually) largest, firmest cushion in the prop closet. The long, rounded-rectangular design of a bolster is perfect for maximum coverage when you're looking to really melt into long holds or get support from something bigger than a block. Here's a look at some of our favourite ways to incorporate this big beautiful helper!
Supta Baddha Konasana - Reclined Butterfly
Nice long holds are such a treat in this amazing front body opener. In Supta Baddha Konasana, try different configurations of your props like placing the bolster vertically up your spine or feel extra supported with cushions/blankets/blocks under the knees. A strap around your waist and ankles is heavenly as well but we'll save that for another post - we're sure this posture will show up in a future Prop It Like It's Hot feature!
Supta Virasana - Reclined Hero Pose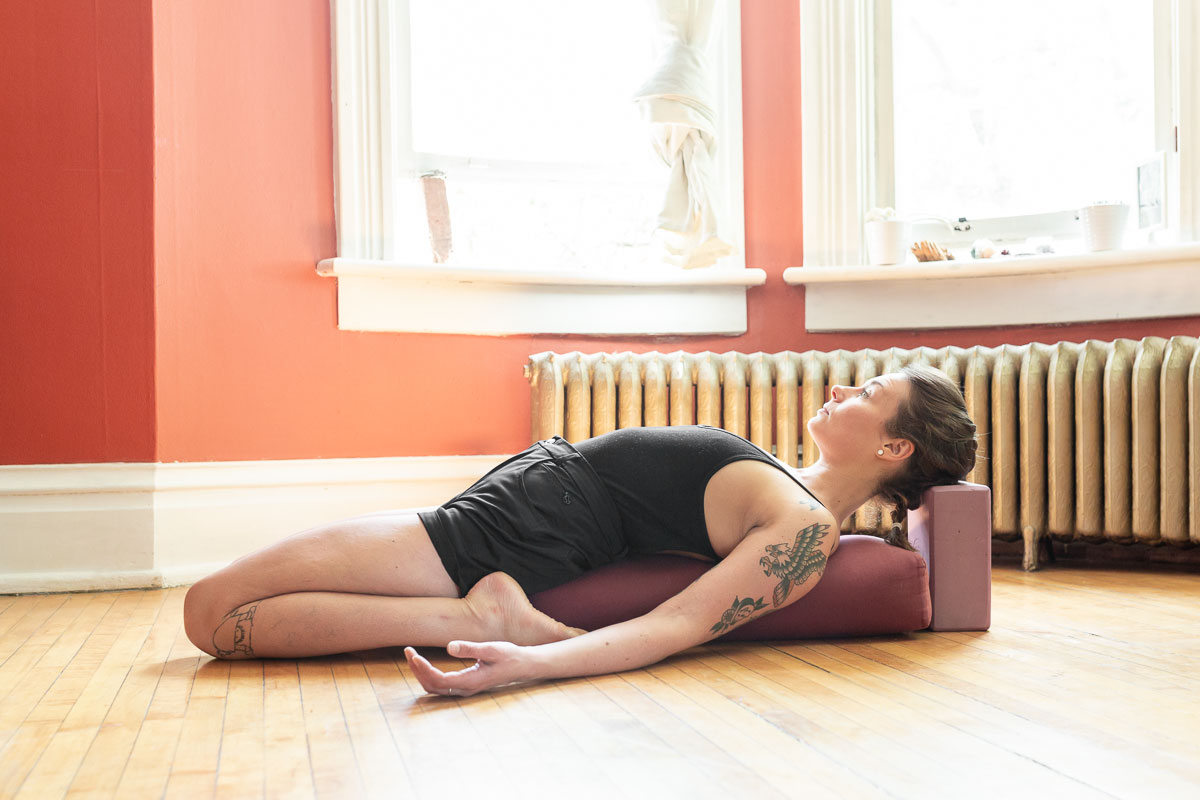 Supta Virasana or Reclined Hero Pose can look daunting and feel unattainable if the prop-er props aren't considered. Variations include placing the bolster under your tailbone or a bit higher into the lower back. You may find stacking a blanket or block in the mix might give you more space to soften as well. Supporting your head is always a nice addition!
Supta Matsyendrasana Variation - Supported Torso Twist
This twist is pure torso heaven! Tuck the bolster right snug to your hip crease on the side body, laying forward and sending your gaze in the opposite direction of your knees. The result is a gentle twist that reaches into your cervical spine. Allow your jaw to soften and breathe into the sides of your neck. You can play around with arm variations to find your sweet spot!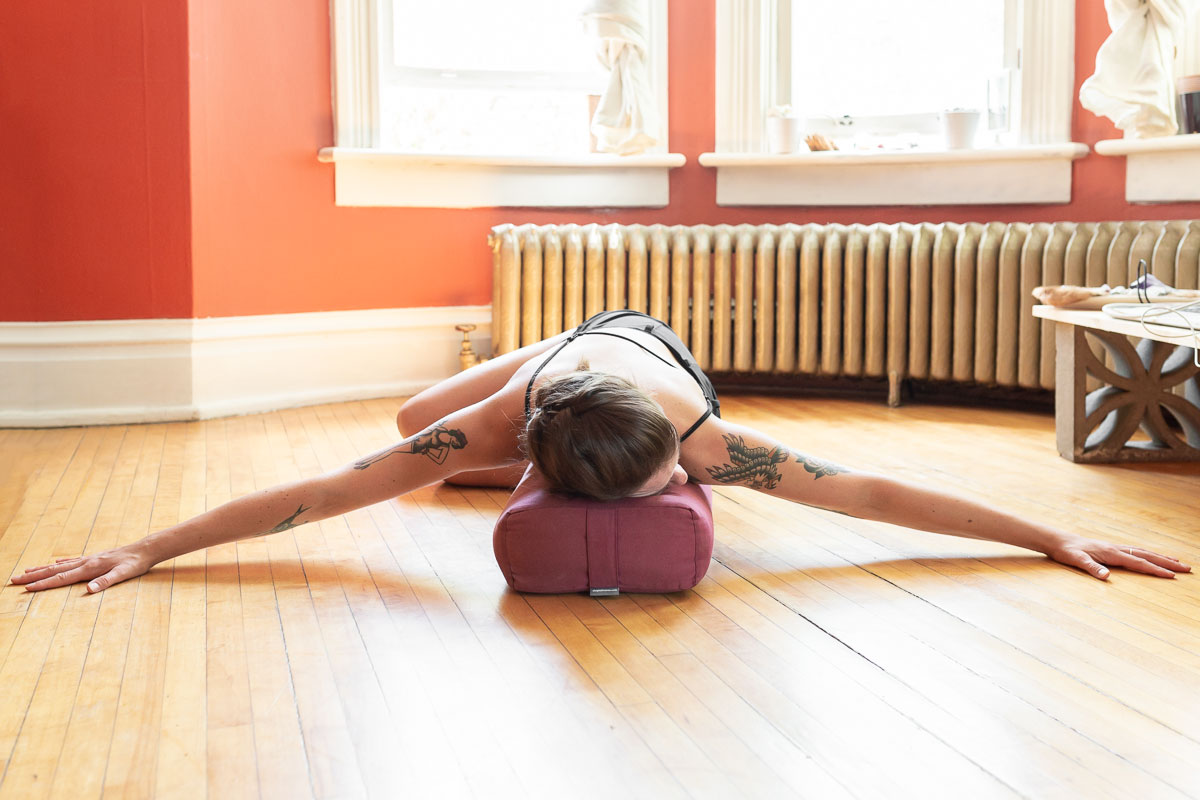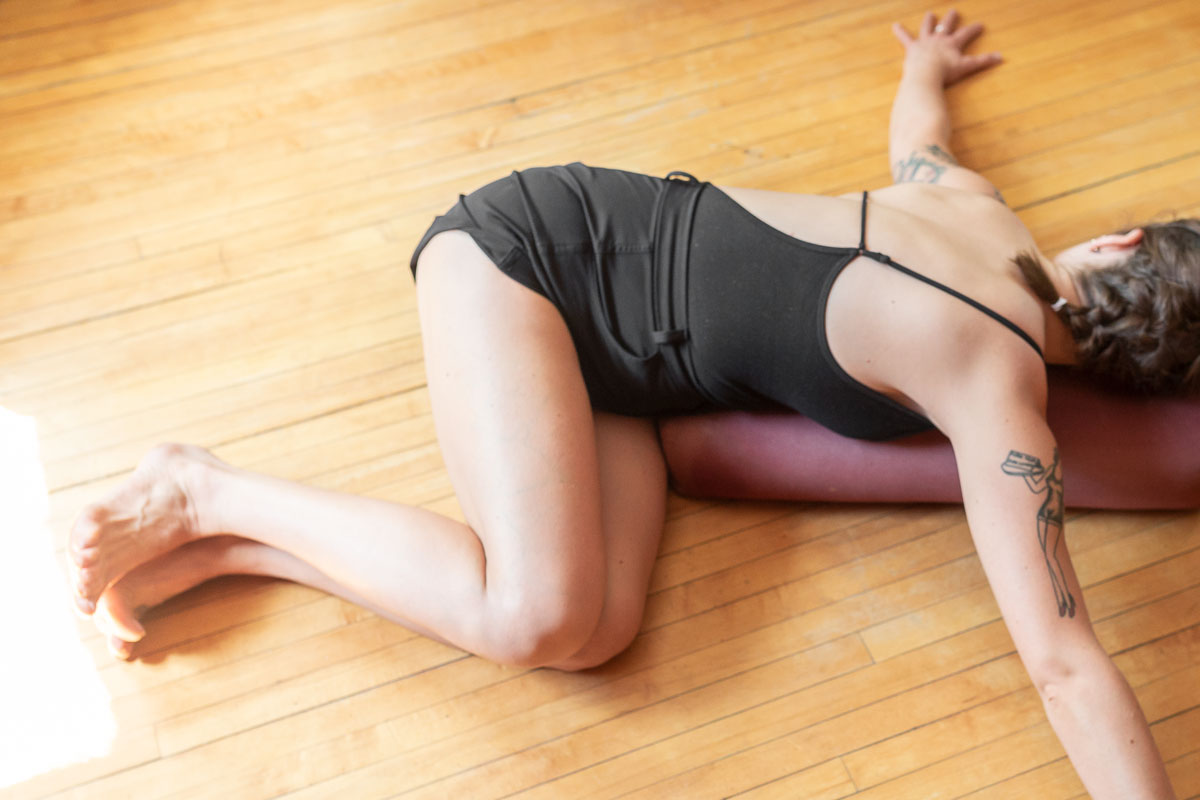 It can be so nice to just explore on your bolster, finding the exact alignment your body needs. Stacking your legs above your hips is grounding and nourishing for not only the legs but the lower back, up the spine and into the back of the head. The gentle incline created is the perfect prep posture for Shoulder Stand (Salamba Sarvangasana) or Plow (Halasana).
And finally, Savasana...!
Keep striving for maximum comfort and support throughout your entire practice, especially when it's time to fully unwind. A bolster may be the perfect addition to your well-earned rest.
Stay tuned for future instalments of Prop It Like It's Hot! Have a suggestion or favourite you'd like to see featured? Reach out! Namaste.