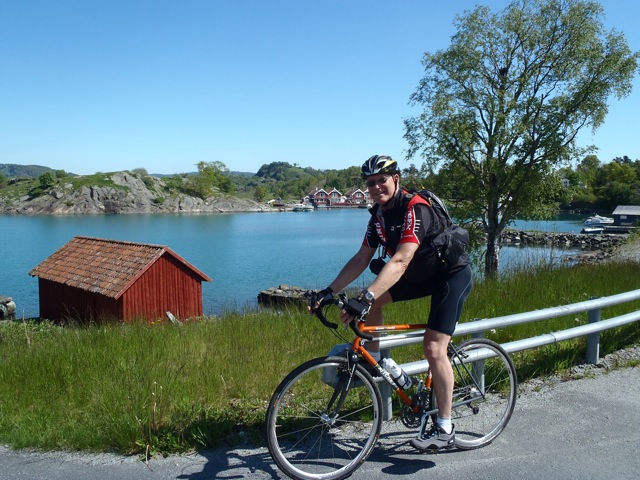 This month we caught up with Neil Haggard, Yogalife's resident adventure yogi who has been with us right from the start!  When Neil's not travelling, you can find him leading classes and workshops or riding his bike.  What a perfect ambassador for Bike Month!  Neil is an active cyclist, hiker and climber and is inspired by how Yoga builds strength and flexibility to support and enhance so many outdoor activities.
Neil shares a bit about his upcoming Yoga for Summer Athletes workshop, Sunday, June 29 3:30-5pm:
Click here to register!
---
 I am excited to offer this fun yoga workshop to active summer yogis!  Runners, recreational cyclists, walkers and hikers will benefit from an invigorating Yoga Asana practice to build flexibility for hips, hamstrings and develop a strong core!  This workshop will be fun and challenging, for anyone active in summer activities who wish to enhance their fitness, strength, flexibility and knowledge of anatomy!  We will work with breath techniques, experience stress relief and learn ways to develop a deeper sense of health and well-being!  Come and join with other like minded yogis, as you deepen your practice, and give your body the support it needs to continue with the outdoor activities that you love!
---
How did you get your yogic start? Who brought you to your first class, what was that like, and where was it? My start in yoga was 17 years ago as a runner with tight hips, hamstrings and a sore back. I found yoga helpful in stretching my body and savasana was so helpful in dealing. I learned to breathe, started cycling and found it really helped me when I was racing road bikes and doing time trials. I had a wonderful Korean senior teacher (Julie Jeong) at the YMCA who inspired me to continue and eventually join the Yoga Association of Alberta where I became a certified YAA teacher. I have been teaching for 11 years and enjoy teaching Hatha, Yin, hot and warm flow, and core to all levels and abilities. I am now an intermediate teacher with the YAA and was one of the original yogis who started with Yogalife a few months before we opened the South studio! I teach morning Hatha on Mondays and 7 pm Foundations and 8:30pm Warm Flow on Thursday evenings as well as various workshops throughout the year (Tibetan Singing bowl meditations, Yoga for Cyclists, Anatomy for Yoga, etc) I am excited to offer a workshop for Summer Athletes on Sunday, June 29 3:30-5pm - a strong, fun practice to enhance all summer activities!!
Share a favourite quote, lesson, or teaching that inspires you.
There is do, or not do...there is no try - Yoda
What's your favourite music to practice to (or do you prefer silence?)
Karunesh (~compassion) has some amazing music to practice with, and I use their music while teaching. Gandalf also has some incredible music for asana and meditation!
Your favourite books, yogi-inspired or fiction.
Light on Yoga by BKS Iyengar and Judith Lasater's Living Your Yoga are two favorites
Tell us about your first teacher training.
A River Lodge yoga retreat with the Yoga Association of Alberta where we each had to teach 2-3 poses to other teachers. It was incredible how much we learned from each other and the senior teachers.
Where's your favourite vacation spot?
Nepal - I lead Yoga & Culture tours and treks to Nepal each year and when I return this October, it will be my 13th time there! I keep a Nepal blog - www.neilinnepal.blogspot.com. I have just returned from nearly a month cycling in Norway (my 4th time there so I guess it is also a fave)
What is your favourite meal to make and share with friends?
Seafood and a nice California or Australian wine!
What's your favourite pose/sequence/area of the body to work on?
I actually have 2 favourite asanas - Kapotasana - my piriformus always needs a stretch and Warrior II for strength
Who inspires you?
Gandhi and Iyengar
Share your favourite self-healing practice.
I breathe, meditate, enjoy stillness and nature while cycling solo Jasper to Lake Louise, which I do for 3-4 days each year! Very restorative. I climb rock, XC ski and Ice climb as well as do some mountaineering which I find meditational to be in the mountains and notice the stillness, clear my mind and enjoy this amazing earth!
Where's the next place you want to travel?
Central and South America are waiting - Patagonia, Machhu Pichhu, Ecuador!
Share one of your life goals.
A life goal would be to move to a country in Asia to live, steep in the culture and become fluent in the language. I plan to fly around the world in 2-3
years!
Namaste Neil!  Thank you for sharing.